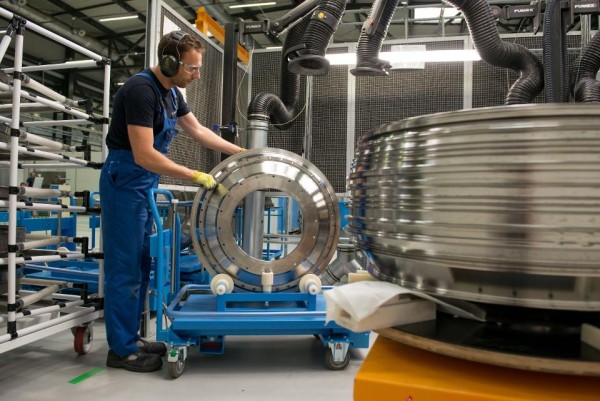 An employee works at an aircraft engine plant of French aerospace supplier Safran, which helps manufacture Boeing and Airbus parts. AFP VIA GETTY IMAGES
Boeing has added more than $1 billion in excess airplane parts to GoDirect Trade, a blockchain platform designed to prove the origin of the parts and ensure they comply with safety standards, according to the manager of the platform, designed by aerospace giant Honeywell. Honeywell general manager Lisa Butters, says the transaction last weekend saw Boeing add the excess parts, or parts they no longer needed, directly to the platform, which connects the layers of the supply chain into a single, shared ledger of transactions that transparently tracks their movement. Boeing could not be reached to confirm the transaction, which was revealed at the Hyperledger Global Forum for enterprises building on blockchain, in Phoenix, Arizona.

Traditionally, aviation parts would each have paper "birth certificates," quality documents, and more attesting to the their original manufacturer and current safety compliance, with each document needing to be physically moved from place to place and re-entered in the new owner's accounts, making them almost impossible to sell online, where the paper documents could easily be forged. But by moving each layer of the supply chain to Blockchain 50 member Honeywell's custom version of Hyperledger Fabric, open source code that anyone can build on, each listing is tied to images of the part and corresponding documents for the exact part being offered for sale, helping not only ensure the part is there, but that the documents it's associated with aren't forged.
Currently, less than 3% of the $4 billion in second-hand aerospace parts sold per year is done online, according to Butters, who thinks that is about to change. In its first year of business GoDirect Trade had $7 million in sales, she says. By the end of 2020, Butters expects the platform will have conducted $25 million in sales, $100 million by 2021, and $1 billion by 2022. "We just celebrated our first birthday," she says. "We are just trying to survive and have really good, exponential growth."

Unlike the bitcoin blockchain, which anyone can build on, Hyperledger Fabric requires that companies be given access to the platform. In this case, Boeing had to set up a digital storefront on GoDirect Trade, a process Butters says takes about two minutes. Once the storefront is created, trusted companies can load their own excess and obsolete materials directly to the platform, similar to Amazon, via an API or by transferring a text file directly to Honeywell.
In its first full year of business, more traditional customers have included airlines that need spare parts to reinstall back into their airlines. On average, Butters says airline parts are reused four times before they are decommissioned, making the validity of their quality documents especially important. But less traditional users, who could stand to benefit from an increasingly digitized process, are aerospace arbitrage traders, who have previously had to rely on the slower paper-based process. "These are companies and people who buy aerospace parts at a lower cost and then they try to find a buyer for it," she says. "They try to broker a deal to make money."

In addition to building the used aerospace parts supply chain network, Honeywell is also using GoDirect Trade, now digitally tracking all the parts it manufactures—two per minute, according to Butters—for potential sale on the platform.

Earlier this week, Butters spoke on a panel with Walmart senior director of blockchain, Archana Sristy and American Express vice-president Michael Concannon about their live blockchain implementations, and what's next for enterprise blockchain. At the same time, Butter's team in Bangalore, India, sent her a shopping list for ten items they think will help supercharge their laptops in preparation for a project to build-out GoDirect Trade later this month.

Called "Alfred" the project would automate the process of digitizing aerospace parts documents by reading them, and logging them with an artificial intelligence (AI). "All this stuff is there," says Butters, referring to the computer components her team requested, including an external hard-drive designed specifically to help a laptop power the AI. "They can assemble everything, configure everything for what we're trying to put together," says Butters. That's how closely we work together, really at the grassroots—we work in the weeds."
Form:forbes.com