The World Intelligence Conference (WIC), which has been successfully held three times as a top-level event in the global intelligence science and technology field, will be held from April 23 to 26, 2020, in North China's Tianjin city.
With only 100 days left in the countdown to the opening of the gathering, the preparatory work is in full swing.
WIC 2020 will be sponsored by the National Development and Reform Commission, the Ministry of Science and Technology, the Ministry of Industry and Information Technology, the National Radio and Television Administration, the Cyberspace Administration of China, the Chinese Academy of Sciences, the Chinese Academy of Engineering, the China Association for Science and Technology and the Tianjin Municipal People's Government.
Nobel laureates, Turing Award winners, intelligent technology industry experts and scholars from home and abroad, as well as representatives of Fortune 500 companies and leading intelligent technology companies, will take part in the conference.
One county and one city will be guests of honor at the conference, entitled to stage special exhibitions. In addition, representative companies from the guests of honor can participate in the conference, issue reports, and hold parallel forums.
Under the theme of Intelligence New Era: Innovation, Energization, and Ecology, the WIC will boost professional academic exchanges, hold industry expert meetings and discussions, and release new cutting-edge intelligent technologies, products and achievements.
According to the conference schedule, the 4th WIC will include an opening ceremony and keynote speeches, a summit, parallel forums, and a closing ceremony.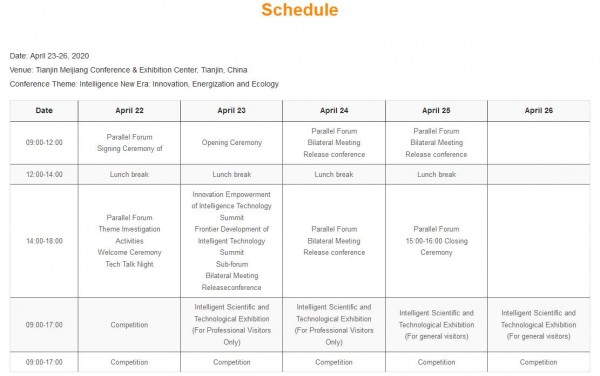 During the event, a world intelligent science and technology exhibition with strong international elements will be held. It will set up eight exhibition sites for various areas of intelligent application, including manufacturing, transportation, daily life, cities, personal experiences, and agriculture, and will also showcase scientific research and innovation and big data. The exhibition is an intelligent technology display and trading integrated platform for new product releases, brand display, personal scene experience, investment negotiation, and cooperation.
In addition, the 4th WIC will hold a variety of competitions, including the World Smart Driving Challenge, the China (Tianjin) Industrial App Innovation & Application Competition, the China Hualu Cup-Data Lake Innovation and Entrepreneurship Competition, the RoboCup Asia-Pacific Tianjin Invitational Tournament, the "Fifth Space" Cybersecurity Innovation Competition, and the International Intelligent Sports Conference.
Intelligent experiences will be a distinctive feature at all meetings, exhibitions, and competitions of the conference, and different application scenarios such as the intelligent experiences of China-Singapore Tianjin Eco-City and 5G will be highlighted.
A senior official at the Tianjin Municipal Bureau of Industry and Information Technology said all related parties in the city will do their best to prepare for the WIC over the next 100 days to ensure that smooth exchanges and cooperation are achieved and to help Tianjin take a leading role in artificial intelligence development.
From:forbes.com