An example of automatically detected defects in a sewer pipe HADES
Hades is a company that uses artificial intelligence to identify cracks, defects and blocks in sewers. Hades also is a god in Greek mythology that looks after the underworld. "Like him, we see ourselves as the ones looking after the underground," says Dominik Boller, a co-founder of the Zurich-based outfit.

Their reach is beyond Switzerland, as the startup has been selected to receive funding from URBAN-X, the MINI-backed urban tech startup accelerator in Brooklyn, New York. The accelerator will invest up to $150,000 in Hades, and provide support and guidance in developing their product.

Hades technology is already in place in Germany and Switzerland, though Boller wouldn't name specific locations. He says the tech works to avoid human error and save time when it comes to inspections.

Sewers are under threat due to old infrastructure that's falling apart, an aging workforce and an increase in heavy rainfalls due to climate change.

"As most sewers are inaccessible, the visual footage recorded during a visual inspection using a remotely controlled vehicle with a camera is the main source for decision-making on how to maintain them," Boller says.
"All these hours and hours of footage have then to be watched by human experts who manually report the defects. As you might imagine, this is quite error-prone and subjective ..."
Hades tech automatically detects defects with AI, generating results that are less error-prone and more objective and comparable, he says. As more sewers are inspected by Hades, its database grows and evolves over time, helping identify the need for repairs to sewers and preventing pollution from leaky lines.

Boller co-founded Hades with Christian Koch, Eric Wolf and Anton Middelhaufe last year as a spin-off of ETH Zurich. The company previously received more than $600,000 in funding from sources including Climate-KIC, supported by the European Union.

Hades offers its software as a service and charges per distance of sewer analyzed as well as a monthly user fee, with gathered data readily shareable in a web app.

A Hades analysis works like this: Where the machine is uncertain, it asks the human for targeted input. That combined use of a machine and human experts delivers overall better results than humans alone, who on average miss or misclassify 25% of defects, Boller explains. He says one customer commented that Hades' AI allowed him to complete a sewer assessment three times faster than with traditional methods.

Now is a critical time for sewers.

"Like most infrastructure, sewers have been systematically underfunded," Boller says.

"In the past, this has been without too much negative consequences as sewers have been designed with a long service life. But now a big part of them are reaching their end of life and are falling apart."

That means failures such as collapses, sewer overflows or leakages will become more frequent and severe.

"To prevent these failures, the U.S. and Europe need to spend billions in the next few years," Boller says. "However, where to spend the money most efficiently and effectively is not very well known as sewers have been out of sight and out of mind."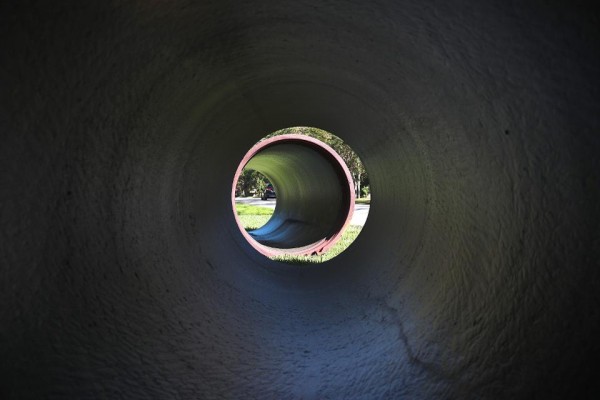 Sewer pipes wait to be installed as workers replace sewer lines in an area of Florida. GETTY IMAGES
Form:forbes.com